Shamrock Rovers head coach Stephen Bradley cursed individual errors after his team conceded "four terrible goals" in their 4-2 first leg defeat at Flora Tallinn in the Europa Conference League playoff round on Thursday.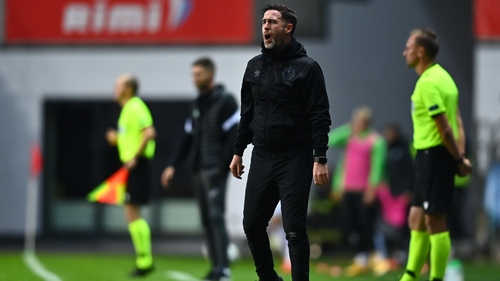 'There's a lot of positives but you still can't get away from the fact that we conceded four goals'
Having gone 2-0 down, the Hoops twice pulled their hosts back to within a goal as Graham Burke and Liam Scales scored but the Estonian side ultimately finished the first leg with a two-goal advantage after the visitors shipped four goals at the back.
Reflecting after the game, Bradley was almost mystified by the sub-par defensive performance.
"We gave away four terrible goals from our point of view," he said.
"And if you do that at any level, especially at this level, you don't deserve to win the game, and obviously we haven't done.
"We made really bad mistakes. Mistakes that I haven't seen this team make before. They had to capitalise on them errors and they did to be fair.
"We're not a team that concedes goals and especially not goals like that. If you come to a team and get out-played and cut open, sometimes you have to accept it and take it on the chin. But tonight, we gave away four really poor goals."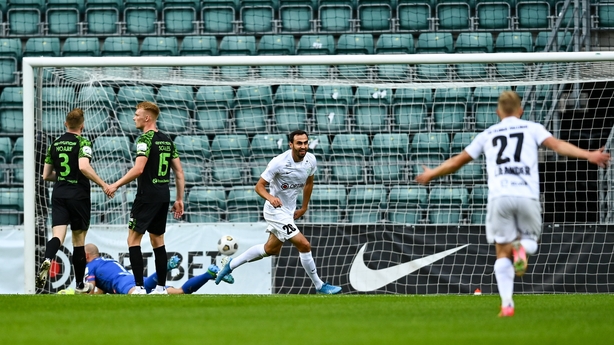 Sergei Zenjov puts the home side in front
Bradley was at pains to insist that the fault did not lie with the Premier Division champions' overall tactical approach, dismissing the notion that they were too "open."
"I don't think it's anything to do with how we played the game.
"We gave away really poor goals because we made individual mistakes. And when you play against good players, you get punished. When you watch the goals and I've seen them back, they're mistakes that we never make.
"And we've made them tonight."
Particularly sickening was the final goal of the night, the hosts' fourth, scored immediately after Scales had pulled it back to 3-2 with a looping back-post header, and which would have left the Hoops in a considerably stronger position heading back to Tallaght.
Bradley praised full-back Sean Hoare, who was introduced as a replacement for the injured Lee Grace, for his overall performance.
"It's really poor, in particular, because when we scored to make it 3-2 you're telling the players to be nice and calm and relaxed. There's a few minutes left, take it back to Tallaght at 3-2 and you'd be really, really happy, considering the goals we gave away.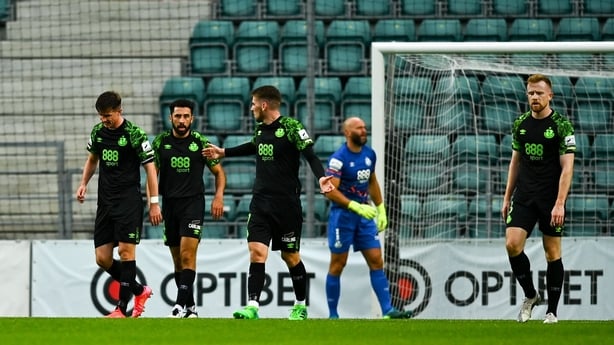 Shamrock Rovers reeling after the second Flora Tallinn goal
"It's another individual mistake. We have a good press, we have them where we want them. And Sean (Hoare) jumps out, allows the boy (Sappinen) to turn him. Again, it's very, very rare but it happened and we got punished.
"I actually thought Sean Hoare was probably one of the best performers that you'll see. I thought he was outstanding. He made a mistake for the last goal but other than that, I thought he was very, very good.
"There was other mistakes that we made."
Despite it all, Bradley is adamant his side can turn the tie around and progress, although he conceded that the concession of four goals was the most disappointing factor despite positive moments in the overall performance.
"We're definitely well capable of winning the tie, there's no doubt about that," he said.
"It was individual mistakes tonight and it's very, very rare for this team to give up goals like that and tonight we've given four up.
"Look, there's a lot of positives when the dust settles. There's a lot of positives but you still can't get away from the fact that we conceded four goals and that's not good enough whether that's domestically or in Europe.
"So positives but still not good enough from us."
The second leg Tallaght Stadium will be live on RTÉ2 and RTÉ Player next Thursday, 26 August.